Collector. Teacher. Drummer.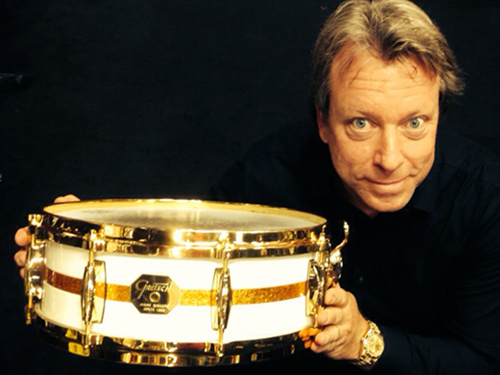 Its hard to imagine someone who loves drums more than Gary Asher of Birmingham, Alabama. Collector, teacher, and drummer. Asher's entire life demonstrates his love for his craft. Born April 4th, 1964, Asher credits his father who was a drummer in the Army Air Corps as his inspiration. His first job out of high school was at Nuncie's Music, which evolved into a near 25-year career as General Manager and buyer. It was there he met his wife in 1984 when she came looking for a cowbell for her own drum set.
As a collector, he has traveled worldwide adding to his impressive drum collection. He has 300 SETS & 600 SNARES currently in his collection. Obtaining one set a month for 35 years, he now owns drums signed by Ringo Starr and Buddy Rich and kits from Fleetwood Mac and Heatwave. His drums have appeared in movies such as That Thing You Do and Drumline. And perhaps the most personal, the set of Ludwig's his father played in the 1950's.
Although Asher is proud of his unique collection, what really excites him is teaching. In 1982 he founded Drum School, where he began instructing the over 3000 students ages 4 to 94 who have been through his three-month course. Somehow Asher still finds the time to play with his wife at church weekly and professionally in his three bands, Lamp Lighters, The Larry Russo Trio, and Gary Asher and Friends and to recently serve as the Partnership Development Director for the Big Brothers and Big Sisters Organization. He has donated over 100 drum sets to numerous charities over the years and attributes all of his blessings to the joy of drumming. "I am so grateful and thankful for every one I have met, every place I have visited," says Asher. "My goal for the next 45 years is to own every drum and teach everyone to play."